Are you planning a startup? Wondering how to power your business with minimal resources?
Raising resources and setting up offices in this epidemic is rather burdensome. The trend today is WFH (work from home). You don't need a functioning office or large workforce. All you need is an email account.
The wonders of a free Gmail account!
When you start a business, you start by collecting resources. Suppose you start a clothing brand. You first visit the clothing market in your city. Why do it? When you visit the market, you can get common fabric materials, sewing, thread, buttons and everything all in one place.
Similarly, if you want to bring your business online, look for a platform that offers multiple functions through a central point.
And if you're just starting to build your business, you don't have to make a huge investment. So you find a place where you can get most of your stuff for free!
Last but not least, were you so happy that you packed a lot of exciting stuff without paying for it? Probably at the food counter at your cousin's wedding!
Almost everything from the chat counter to the dessert corner looks mouth-watering! A free Gmail account is like a wedding at your cousin's wedding. You don't pay a dime, but you still enjoy a delicious and healthy meal.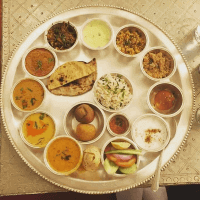 Source-Pinterest
Likewise, your Gmail account offers a variety of services from messages to storage to calendars. With a free Gmail account, you can use the entire IT system behind your business.
You don't need a working computer, USB or hard disk as Gmail does it all.
Now let's check out the different dishes a free Gmail account has to offer for your business! These can be categorized into two important functions that are mainly performed in a business setting.
Documentation –
Since childhood, you've probably heard people say, "Record it!" From teachers to mentors to bosses, everyone emphasizes the importance of the document.
Documentation is one of the most important functions of any business. For this, Gmail offers Google Docs, Google Sheets and Google Slides. Images, equations, and tables can be used to create, share, and work on these platforms.
Essays, calculation sheets, and slides for presentations help you prepare for your next meeting!
You can save these documents to Google Drive.
Google Drive is like a closet to organize and store all your clothes. Similarly, you can store files up to 15 GB.
Communication-
Beyond business, and even in life, communication is a fundamental function of human survival.
Use your free Gmail account in Bangalore to connect with people from Banashankari to Bangkok.
Gmail offers Hangouts, and Google meets for social interactions between employees, customers and customers. Because if you are not in a social life there is no such life.
This variety of dishes has many advantages! they-
Save as much as you want! – Do you have a closet with plenty of space for how much you wear?
Free Gmail accounts offer up to 15 GB of storage. This means you can easily store large emails and files wherever you want, and you don't have to worry about running out of storage.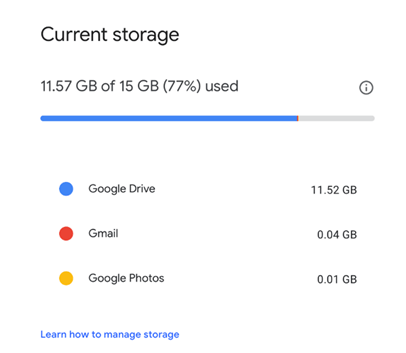 Source Google Support
Economical and easy to maintain-Gmail is inexpensive, maintenance-free, and the data you store can be accessed anywhere, anytime from a web browser.
No separate IT team is required. You can directly access and perform all functions using the Google dashboard.
Accessible from Any Device- Imagine a colleague is away and needs access to his computer to get important files. But you don't know his password, so you ask him for a password. Doesn't it seem like a time-consuming task?
To avoid all this trouble, a free Gmail account makes it easy to access. You can sync your Gmail account with MS Office, Windows, iPhone, Android and other devices. All mobile phones today work with the help of a Google account.
You can now access the files on the cubicle itself!
You can manage your clients efficiently. -In this epidemic era, it is impossible to arrange a physical meeting. Video conferencing and video conferencing are the best ways to interact with your customers.
For this, the free Gmail account incorporates features like IM storage and Google Meet. So you can easily get in touch with customers and employees and record the same for future reference.
Security Data -In a world of increasing cybercrime cases, people are threatened by hackers every time. Google also takes care of this.
Google guarantees the service, uses uptime, and can back up data on our platform. Your information can be accessed via a secure SSL encrypted connection, so no one can access your data.
After reading all of these features, if you haven't created a Gmail account yet, you'll need a little bit of tuning! Open your device, create a Gmail account and start your dreams of upcoming business success.
Create a Gmail account and you'll be able to lay the groundwork for the rest of the work!
A free Gmail account is also a great addition to your business. This is very important for small businesses or startups. Watch online games get healthy for free!
Interesting fact! – You don't need to create a Gmail account to set up Google. All you need to do is accept a valid existing email address and Google Terms of Use.
Having a free Gmail account like Google Search, YouTube, and all other Google services makes it easier to use Google services.
There are plenty of great features and culinary toppings that you can use to make your free Gmail account a tool for your home business.
A star that stands out -Have you ever scrolled through hundreds of messages in your inbox to find one important message?
With Gmail's star system, you can tag important emails so you can easily find them later. Normally starred emails are starred in yellow, but other colors can be used.
Click the star icon next to the sender's name to add a star to the email you receive. You can also click the star button in the top right corner while the email is open.
Organize with Gmail Labels- Whenever you buy a shirt, look at the label or tag to find prices and other details.
Similarly, you can use Gmail labels to mark or tap on emails you send or receive. You can also archive draft mail.
An interesting feature is that you can add multiple labels to a single email. Tags narrow down the system and make it easy to find the emails you want.
3. Please sign me ! – People are said to be defined by their signature.
Gmail signatures are usually text or favorite quotes and can be added as a footer at the end of an email.
For example -H2O water, because moisture supply is important
This can be contact information, tagline, or your favorite quote. You can add your signature in the following way:
4. Stay up – to-date without internet – you can access your emails even when you're offline, like on an airplane. Wouldn't it be nice to manage your emails while flying?
Gmail uses Google Gears for this service. Google Gears is an open source browser extension that allows you to run web applications even in offline mode. The gear mainly serves three functions.
You can cache or serve application sources like Java and HTML without the help of a server. Instead, a local server is created. It also provides a database for storing and editing files within the browser. Finally, we provide a pool of worker threads. Web applications are more responsive as expensive operations are performed in the background.
5. Always Different -Have you ever bored seeing the same commercial multiple times while watching your favorite show on TV?
Similarly, repeated or identical queries in your inbox can be very burdensome to respond. In this case, a prepared answer is provided for the rescue.
Instead of constantly responding to duplicate emails, you can set up canned responses for quick response.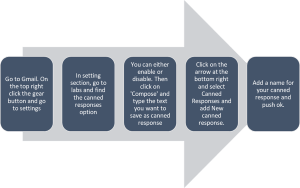 6. BCC and CC to keep employees on the go -When someone says'I Cc'd you the email', you may wonder if today is Cafe Coffee Day, but it is not.
If you need to send emails to multiple accounts, you can enter those email addresses in the "Cc:" and "Bcc:" sections. "Cc" stands for "Carbon Copy" and "Bcc" stands for "Blind Carbon Copy".
Cc is the mail copied from the original email. Both primary and cc recipients can see all addresses to which emails are sent.
Bling Cc Copy allows others to view your email without knowing the primary recipient.
This system is faster and more economical than delivering the original email over and over again.
These benefits help Gmail dream of a bright future. So, explore the wonders to get the most out of the platform.
The next step is to take online gaming to the next level! This requires a little investment, but it's worth it! Gmail for business is the next step I'm talking about.
It is important to familiarize yourself with the vague terminology of Gmail for Business before proceeding. It's a custom domain . Turn @gmail.com into your own custom domain to create a professional email address for everyone on your team. [email protected]
The custom field is a unique label associated with your website's IP address. To visit a specific site, you can enter your custom domain name in the address bar of your browser.
Source-blog ambitious
For example – Glamrs's custom domain could be www.glamrs.com. Domain registration is required.
Registration helps you own your website so that no one else can claim it. Visitors can also easily find your website. You can personalize your domain name, website logo and content. This allows you to establish authority, create your brand identity, and create a unique presence that sets you apart from your competitors.
Make sure your domain name is short, easy to remember and easy to understand. Also, be sure to provide hints on your business theme.
For example -Alex Construction Company Pvt Limited's domain name should not be www.alexconstructioncompanypvtlimited.com. You can see that the name is very long and complex. Instead, www.alexpvt.com or www.alexconstructions.com is more accurate.
Custom domain names also help you set up your search rights. In general, old domains get more leads on search engine platforms. Because there was time to generate quality content, internal links and backlinks.
Websites like WordPress or Wax provide free domain names for their websites. However, you can also get paid domains on other platforms.
If you have a domain name and Gmail account in your bag, we recommend using Gmail for professionals like businesses!
Small investment, but huge benefits!
If you get the added benefit and have no ads, you can use the paid business version of Gmail. Google offers two paid plans, $5 and $10 per month.
The paid version of Gmail is a Gmail business account. Gmail business accounts are also known as G Suite accounts. This term is used specifically to refer to your professional or business account. Accessing your G Suite account gives you far more benefits than a regular Gmail account. G Suite for business is the pinnacle of the many web applications that Google brings to business.
Now let's understand how to set up your G Suite account to play the next level! It includes the following procedures:
Upgrade, you want to reach the peak- why are all AR Rahman albums so evergreen? The answer is because of exclusivity.
Likewise, every business has an edge when it comes to using proprietary features. For exclusive features, a Gmail business account will help!
With a G Suite account you can access Gmail from any domain of your choice. Each user in the organization can use up to 30 GB of storage space. It offers executive email, cloud storage, shared calendars, video conferencing, and more.
Collaborating through Google Apps is simple and effective. It's ideal for small businesses as it offers many tools on one platform to help you succeed. An important advantage is accessibility to all web applications.
You can use the Google Play Store to access a variety of secondary web applications, from social media apps like Facebook and Instagram to government apps like Aarogya Setu App.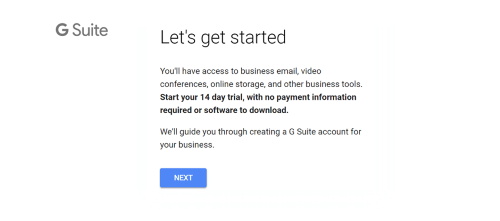 2. Tell us if it's you -identify yourself and let them know if they are you!
It's important to verify your domain to set up a Gmail expert account. After switching to Google's MX record (a record that specifies the mail server responsible for receiving email messages), you can get the record through your Gmail inbox or Microsoft Outlook.
Follow the instructions to log in to your domain host. The domain host manages the domain's technical settings.
Source-Kinsta
At the end of this step, update your MX record settings to ensure that emails are delivered to your G Suite account. It's like registering an updated mobile number to receive messages with a new number. If you are using email from an existing domain host, you will receive mail directly from your Gmail inbox. Google allows you to add multiple domains to your G Suite account.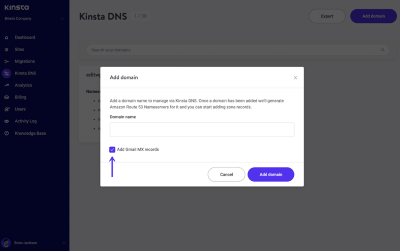 Source-Kinsta
3. Security time ! – Once you have identified yourself, you must be protected. To protect your account from hackers around the world, Gmail for Business performs authentication.
Gmail for Enterprise uses SPF, DKIM, and DMARC methods to perform authentication.
Like sunscreen, it doesn't protect against harmful UV rays, but it does protect against spoofing. Sender Policy Framework (SPF) is an email authentication method that tells your mail server to send mail only to your domain. SPF prevents spoofing and ensures mail is delivered accurately. Mail servers that receive mail from your domain use SPF to check your mail to make sure it's coming from your domain.
Source-Goldyora
Domain Keys Identified Mail (DKIM) is used to increase the safety of mail sent from your domain. If spammers use your domain to send spam emails, the quality of your domain is degraded. Users who receive fake emails from their domain may find spam emails and may not actually see the email they are sending.
So DMARC (Domain Based Message Authentication, Reporting and Compliance) is used to make sure this doesn't happen.
4. Pick up the needle and thread ! – Just like your preferred apparel measurement method, you can customize your G Suite service URL.
Creating a custom web address (URL) makes it easy for users to find core services in G Suite.
For example, users can use a custom address to log into their Gmail business account at mail.Preethi.com instead of the longer primary address, mail.google.com/Constructions/Preethi.com.
You can customize web addresses for both primary and secondary domains of the service, including Gmail, Calendar, Site Tools, and more.
5. Integration Phase -Employees in your organization can use a Gmail business account to get a new unified Gmail experience. All kinds of communications like emails, video conferencing, and file drives are accessible from familiar places (e.g. Gmail)
Consolidating all your employees allows you to share documents, control notifications to prioritize tasks, plan meetings, and multitask on a single platform.
You can also customize various Gmail features such as offline file access, read receipts, and mail delegation.
By following the steps above, you are almost ready to build for business success. Creative and smart painting and interior nuances can make your business even more brilliant!
To be smart, you need to understand what G Suite does.
Some of the exclusive features of G Suite include:
Have you ever faced the issue of video lag during video conferencing during uptime WFH (work from home)? This is a tough condition. Meetings are wasted because you don't understand what the other party is saying and your server goes down.
But Google is always ready. . When it comes to uptime, Google is one of the best. Plus, email is a very important part of any business, so G Suite has no scheduled downtime or maintenance windows. All data centers are built with redundant infrastructure, so Google works like a clock all day long.
Add 3rd Party Domain -This is especially used when businesses send marketing emails or newsletters. These emails are often sent in large volumes to a broad audience. So, if you add a third-party domain and use it for this purpose, you can get a better delivery rate.
Compatible and simple -Gmail for business is one of the most accessible communication platforms. This is because all employees can access all platforms from a central point. This makes communication very simple and flexible.
G Suite is compatible with everything from Windows to Android to iPhone.
So, can these interesting uses and features really go wrong?
As of the Covid-19 outbreak, people are struggling to manage their business. They can't run from pole to pole to solve business problems.
Make it happen with Gmail for business. It must be one of the essential tools in every businessman's pocket. So go ahead and create an account, use all the fantastic features and watch your sales jump dramatically!