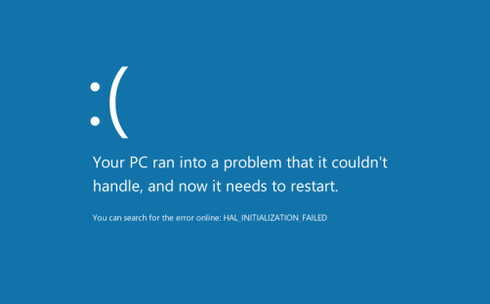 Windows 10, 8 brought many differences compared to previous versions of Windows. These two platforms are designed to be more user-friendly and more "intuitive" especially for entry-level users. However, sometimes it is better to use a more complex system where you should be able to solve some problems yourself. That can be especially applicable if we're talking about BSOD messages or warnings that have become useless sad smiley faces.
BSOD or Blue Screen Of Death refers to the default Windows stop message or error warning. When the BSOD is displayed, you can actually see more information related to the issue in older versions of Windows, and eventually fix the issue. Now in Windows 10, 8 and Windows 8.1 you can only receive sad smiley faces. " Your PC has encountered a problem it can't handle and needs to be restarted ."
So 
,
 to 
view the default BSOD messages or
 access the actual error messages in 
Windows 10 and Windows 8, 8.1,
 follow the steps below. Of course, you can also log the errors that occur in Windows 10 or Windows 8, 8.1 and then search online.
How to view BSOD logs in Windows 10, 8.1, 8
1. Use Registry Editor
Download the KB2929742 hotfix from here on your computer and then apply the same on your Windows 8 device.
On the Windows Start screen, press the Win + R "in the" Run "box regedit input" Please – Click "OK" to launch the Registry Editor.

In the registry editor, go to the path "HKEY_LOCAL_MACHINESystemCurrentControlSetControlCrashControl".

Right-click on an empty space in the right panel of the Registry Editor.
Select "new" and then " DWORD Value ".
Name the new DWORD value "DisplayParameters".
Click on this new value and enter 1 – "1" in the "Value Data" box.

Save your changes and close Registry Editor.
Also, restart your Windows 8 or Windows 8.1-based device.

2. Install BlueScreenView

You can also install dedicated software to view Blue Screen of Death details on Windows 10, Windows 8. NirSoft's BlueScreenView scans a computer-generated mini-dump file when a BSOD error occurs and then displays the details of the crash in a simple table. This table contains information about the date/time of the crash, the driver that caused the crash, etc.

Download BlueScreenView

Well done. You can now view or view classic BSOD details on Windows 10, 8 and Windows 8.1. Please use the comment field below to share your experience with us and our readers.