All over the world, there are hidden gem-like places with majestic and quaint appearances that are hard to believe as Earth.
Here are seven mystical and beautiful spots in the world that you can't believe actually exist in the World.
China Seven Mountains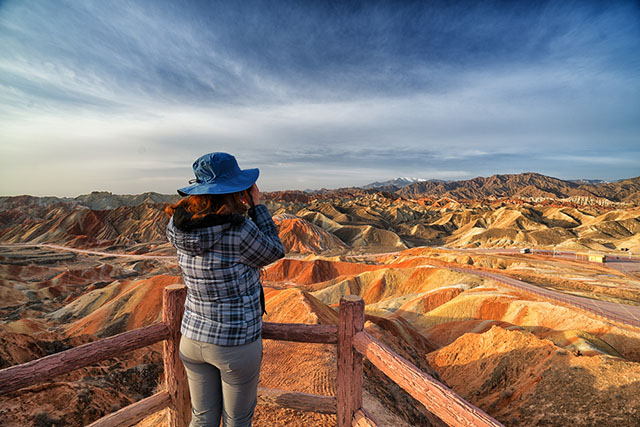 In Zhangye City, Gansu Province, China, famous for the Gobi Desert, there is Janghui Danha National Geopark, where you can see the art of nature spread out like a colorful screen. It is more commonly known as'Chilchaesan', meaning'mountain with seven colors'.
Just 30-40 minutes by car from the city center, the unrealistic scenery spreads in front of you, as if a seven-colored rainbow has settled on a mountain of ocher-colored soil with endless smooth curves. The appearance of this peculiar terrain is enough to create the illusion of traveling to another planet for a moment.
It is said that the layers of red sandstone, which are stacked in various colors such as bright red, yellow, yellow green, pink, white, blue, etc., were formed by failing red sandstone through weathering and sedimentation over many years. Depending on the type of material deposited, it has these various colors.
This mysterious watercolor created by Mother Nature was registered as a UNESCO World Heritage Site in 2010. Chilchaesan in the daytime, which boasts its own vivid colors, is also beautiful, but it is said that Chilchaesan in the sunset sparkling in the red sunset is so fantastic that it cannot be expressed in words, so it is better to take the time to visit.
Tip: Considering the amount of rainfall and sunlight, it is said that you must visit Mt.
American Grand Prismatic Hot Springs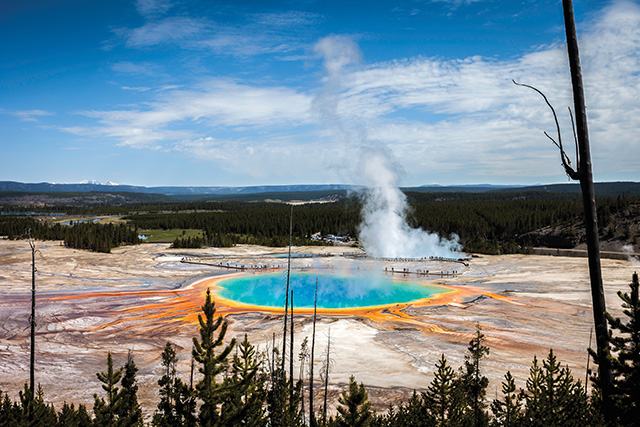 If you could see a rainbow painted on a mountain in Zhangye in China, you can see a rainbow soaked in a hot spring in Wyoming, USA.
The world's first national park, Yellowstone National Park in the United States, has over 3,000 geysers and hot springs. Among them, the Grand Prismatic Hot Spring in the Midway Geyser Basin is the world's third largest hot spring, and even more surprising than its massive scale is the color of this hot spring. Unlike other natural hot springs, the Grand Prismatic Hot Spring has a vivid color of red, orange, yellow, green and blue. It is said to appear in various colors depending on the depth of water, light scattering, and the type of bacteria living in the water.
This hot spring is called a caldera lake formed by magma erupting in an instant. The colorful hot springs emanating misty steam from the limestone hills are weirdly beautiful. The vivid and colorful colors created by nature are also considered as a must-see before you die.
Also Read: Top World Travel Destination
Tip: To get an overall view of the Grand Prismatic Hot Springs, it's best to climb up nearby hills such as Picture Hill. There are a lot of mosquitoes on the trail, so mosquito repellent spray is a must!
Waitomo Caves, New Zealand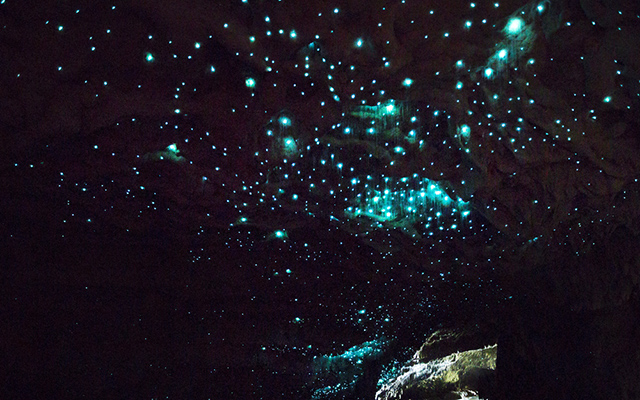 Waitomo, a limestone region on New Zealand's North Island, has several stalactites. Among them, Waitomo Cave is famous as a place where you can see the fantastic Milky Way in the dark.
Waitomo Caves, lined with stalactites and stalagmites formed over thousands of years, are very beautiful in their quaint shape, but what makes this cave even more special is the glowworm, a type of firefly. Glowworm builds a sticky house of slime and hangs from the ceiling of the cave. It looks like the Milky Way in the night sky to us when it glows blue to attract food such as small insects.
As one of New Zealand's leading tourist spots, there are various tours where you can experience Waitomo Caves. 'Black Water Rafting' is an unforgettable experience with a little terror and thrill of exploring a dark cave, plus the blue mystery created by glowworms. Gives you. 'Lost World', which goes down a line into the cave, is also a program where you can experience Waitomo Caves properly.
Tip: Waitomo Caves take 3 hours from Auckland and 2 hours from Rotorua.
Benagil Cave, Portugal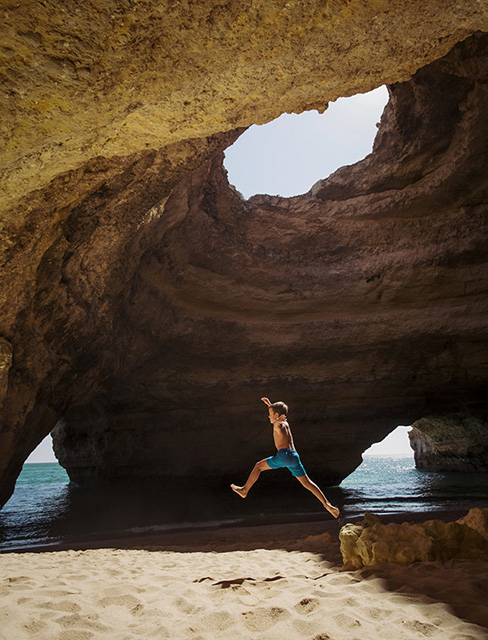 The coastline of southern Portugal is famous for its mysterious sea caves and strange rock formations. Benagil Cave is located on the Algarve coast, which is famous for its particularly beautiful topography.
There is a large hole in the ceiling of the dome-shaped Benagil Cave. The dazzling blue sky in between creates a spectacular view, mingled with rugged ocher-colored rocks. The semicircular hole carefully drilled into the sea looks like a secret door to utopia. Due to the light shining through the holes, the sandy beach in the sea cave always sparkles with gold.
Many people take a boat tour to properly see Benagil Cave. This boat tour, which usually takes about an hour, consists of taking a small boat to see every corner of the Algarve coast, but it is said that some places cannot be stopped depending on the weather. You have to be lucky to see the most complete Benagil Cave.
Tip: Usually, if you visit in the morning, the wind is weak, so you can access more places, and if you visit in the evening, you can see the prettier colored cave.
Lake Moraine, Canada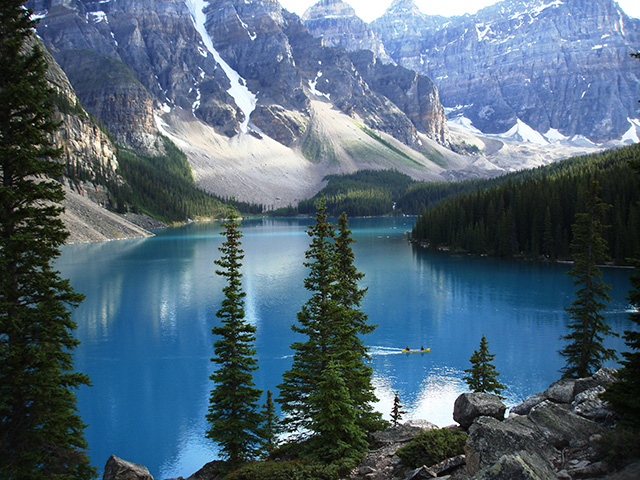 Lake Moraine is in Alberta, Canada. It's a giant glacial lake in Banff National Park, Canada's first national park.
True to the word'jewel of the Rocky Mountains', the water of this lake is emerald blue enough to make the snow cold. It is said that the fine rock powder deposited in the lake reflects only the blue color, giving it a unique glow. The fantastic scenery of Wenkemna with white snow on its head rises above the dazzling emerald-colored lake and is a paradise of coniferous forests. There is no shortage of thinking of the word.
You will feel like you are being sucked into a dream when you take a leisurely boat ride over Lake Moraine. It is said that the landscape of Lake Moraine was once used on the Canadian 20 dollar bill.
Tip: Lake Moraine has a completely different feel depending on the season and time of day you visit. It would be good to stay for a long time and enjoy the various colors of water and sky.
Shandong Cave, Vietnam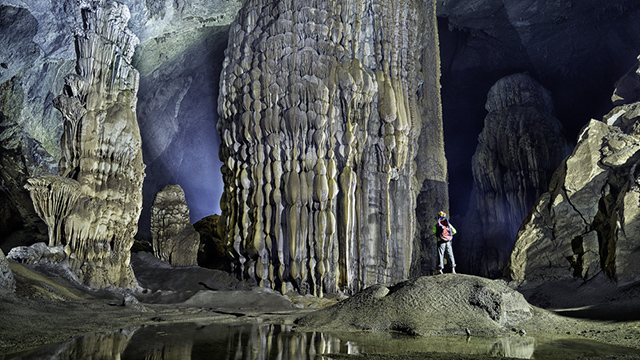 Driving south from Hanoi, Vietnam, you will find the world's largest cave, Shandong Cave. It's near the border between Vietnam and Laos. Boasting an enormous size of 200m in width, 150m in height, and 9km in length, it is said that the shape of this cave continues to change due to erosion to this day.
The cave was discovered only in 1991 by local inhabitants and received great attention not only for its enormous size, but also for its artificially carved peculiar stone and peculiar shape of stalactites, stalagmites, and stone columns. In addition, the ecosystem and climate in the cave, such as cave birds, cave monkeys, lakes, and cloud fog, are hard to see in other places, attracting more people's attention. In the cave, it is said that a 70m tall stalagmite, known as the world's largest stalagmite, and a cave pearl' the size of a baseball were also found.
It's never been easy to explore Shandong caves. To enter the cave, you need to obtain special permission in advance, and in 2017, only 800 permits were issued between February and August. In addition, it is said that after walking through the bush for a long time, you must cross the valley that kicks your knees to reach the entrance of the cave. It is a mysterious cave that stimulates the spirit of adventure even more as it is hidden.
Tip: After August, the river's water level rises due to heavy rain, making it difficult to access the cave.
Turkmenistan Darbaza Gas Crater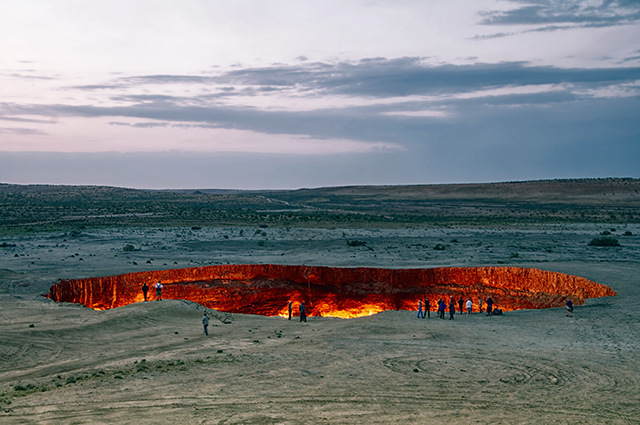 About 300km north of Ashgabat, the capital of Turkmenistan in Central Asia, is the Karakum Desert. In the middle of that desert is a huge gas crater called'The Door to Hell'. With a diameter of 70m and a depth of 30m, this fireball is blazing bright red, reminiscent of the entrance to hell in the Bible.
This 'gate to hell' is said to be an artificial phenomenon. It is said that in 1971, scientists in the former Soviet Union were drilling oil, and the ground collapsed, creating a large sinkhole. In the meantime, the fire that was put on to prevent the toxic gas from leaking out has not extinguished for decades and has been burning up to this day.
Strange spots where you can feel the mystery of nature! Of course, it's not as easy to get to as the popular tourist cities. However, if you put it on your bucket list and erase it one by one whenever you have a chance, you will be able to feel a thrilling moment that you have never felt anywhere else.