A company's success can suffer significantly if its product or offerings stray from the needs of its target market. To capture the attention and gain the support of your customer base, your business must deliver the appropriate items to the right audience.
The reason your product succeeds or fails in the market involves more than just its utility, looks, and quality. It also involves how you present it to your customers and if its tone resonates with your target market.
This aspect is very important because if you give your business or goods the wrong tone, your customers may feel that your brand is not the right one for them, preventing your company from reaching its full potential and thriving in the market.
To get the perfect tone for positioning your brand in your clients' minds, you need a firm knowledge of your target customers and what appeals to them. This necessitates the need for in-depth market research. 
Because of this, we conducted this extensive research to help you by providing you with a clear image of how various customers react to businesses that either have a current and creative brand tone or a traditional and historical one.
Why Was This Study Conducted?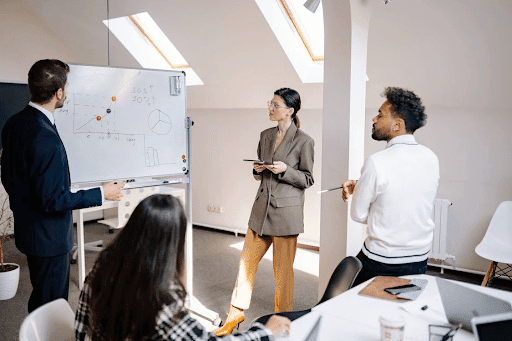 We were curious about which companies customers loved and how age variations affected their purchasing decisions. And our results proved to us that the tones of different brands play a role in influencing customers' choices.
As a business owner, you must know that to raise the possibility of your company's success, you must match your company's name, identity, and other branding components with the expectations of your target market.
By identifying the kinds of brands that consumers in your target market value and favor, you could streamline the process of using a domain name generator to find a catchy business name that'll captivate your core customer base.
To accomplish our study's objective, we polled American consumers to determine if they preferred doing business with establishments that emphasized fresh and creative tones over those that favored familiar and enduring brand tones.
How Practical is This Research?
When launching or rebranding your company, you need to have a clear picture of who you're creating your products for so that you can tailor the experience to meet their taste. Your items are made with certain people in mind, which are your target audience.
But because they'll be so many different customers in your market, you can't prevent the fact that no one product will appeal to everyone. That's why your main priority should be to make your goods appeal to your target audience.
Your brand positioning strategy is how you sell your business and product to your customers, and it is one of the most crucial choices business owners make because it significantly influences how clients interact with and perceive your brand's character.
A good brand positioning plan is key. However, before you can start creating one, you must first analyze your target market and the brands that most appeal to them. Because if you choose a brand tone that doesn't resonate with your target audience, your business will lose its core customer base and be swiftly overtaken by rivals.
In conclusion, brand positioning, one of your company's most crucial components, requires in-depth market research to get right.
Let's examine the findings of our survey now.
The Following are Our Study's Major Findings
To make our conclusions clearer, we divided the data we collected into various age groups. The replies we got from the survey were really interesting.
The results from the 301 survey participants we spoke with are as follows:
According to our research, firms with a contemporary and modern vibe are far more likely to attract younger clients between the ages of 25 and 34.

Courtesy: Squadhelp
Both modern cutting-edge businesses and older historical ones are beloved by consumers between the ages of 35 and 45. Given how closely the outcomes were to each other, it's clear that both solutions will appeal to this group.

Courtesy: Squadhelp
According to the study, consumers between the ages 45 and 54 like reputable, traditional companies.

Courtesy: Squadhelp
More established businesses tend to draw customers between the ages of 55 and 65.

Courtesy: Squadhelp
Males don't seem to have a definite preference for older or modern enterprises, according to our poll.

Courtesy: Squadhelp
But women prefer well-known, long-running companies over fresh, creative start-ups.

Courtesy: Squadhelp
Among the 301 participants, 143 favored new, innovative enterprises, while 158 preferred historic, established ones.

Courtesy: Squadhelp
Determine which age range your target market falls into and use a tone that aligns with their preferences to get the most out of the survey data.
Uphold a Steady Tone
Use the survey results while creating your brand image, marketing strategies, and company plans. And though It'll take a lot of time, effort, and expertise to build a strong brand image for your firm, if your brand tone is consistent, people will recognize and trust you in the marketplace.
Grant Polachek is the head of branding for Squadhelp.com, 3X Inc 5000 startup and disruptive naming agency. Squadhelp has reviewed more than 1 million names and curated a collection of the best available names on the web today. We are also the world's leading crowdsource naming platform, supporting clients from early-stage startups to Fortune 500 companies.