The Dyson DC33 Vacuum Multi Floor is a slim and powerful bagless upright vacuum cleaner for all floor types including carpet, tile, vinyl, and wood. Root Cyclone technology ensures no loss of suction power when cleaning. There are no bags to replace and the Lifetime filter is washable at no extra charge. The Telescope Reach wand extends to 14.4 feet for cleaning stairs and other high-reach places.
The Dyson DC33 Vacuum Multi Floor Upright has two cleaning modes. One for carpets or rugs and one for hard floors. It has a 35-foot power cord and HEPA filtration.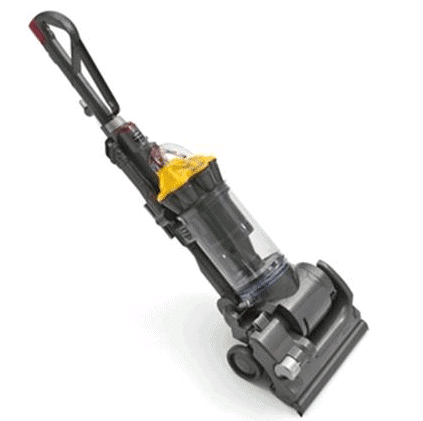 Since the Dyson DC33 Vacuum is rather large, cleaning stocking stains can be a challenge. This vacuum cleaner has an excellent filtration system, making it ideal for allergy or asthma sufferers.
Dyson DC33 Vacuum Specs
| | |
| --- | --- |
| Model | DC33 |
| Design | Upright |
| Color | Grey and Yellow |
| Height Adjustment | None – Fixed at 44.9 inches |
| Dust Collection | Bagless |
| Cleaning Head Path | 14 in |
| Cord Length | 35 ft |
| Hose | Yes |
| Hose Reach | 15 ft |
| Motor | 12 Amp |
| Consumption | 120 volts |
| Noise | 75-80 decibels |
| Filter Type | Two Lifetime Guaranteed HEPA Filters |
| Filtering Method | Cyclone and Rinsable filters |
| Dimensions (HxWxD) | 44.9 x 13.4 x 14 inches |
| Weight | 17.6 pounds |
| Warranty | 5 year limited |
| Manual | Read The Dyson dc33 Vacuum user Manual |
Dyson DC33 Vacuum Pros and Cons:
| | |
| --- | --- |
| Dyscon Dc33 Vacuum Pros | Cons |
| Incredible suction power that never loses power. | Heavy Weight to To carry up the stairs or Down the stairs |
| Extra-long reach with flexible hose and telescopic reach. | Large, and doesn't get into tight spaces easily. |
| A wide path on the upright. | Large particles get pushed around on hard flooring and don't fit under the vacuum head. |
| Clean from corner to edge. | A bit Overpriced |
| Complete filtering system. | No Automatic Cord Rewind Feature |
Features of Dyson Dc33 Vacuum
Root Cyclone Technology: The Dyson cyclone captures particles as small as 0.5 microns without losing suction power.
Washable HEPA Filter: Captures allergens and expels cleaner air. Filters out fine particles up to 1/5,000th of the pin head. These small particles include common household allergens such as pollen, mold spores, and dust mites.
Telescope Reach Wand: Telescopic Reach extends the wand to a reach of 15-feet. The wand assembly has been redesigned to be lightweight and provide an additional 4 inches of reach, making high-reach cleaning easier.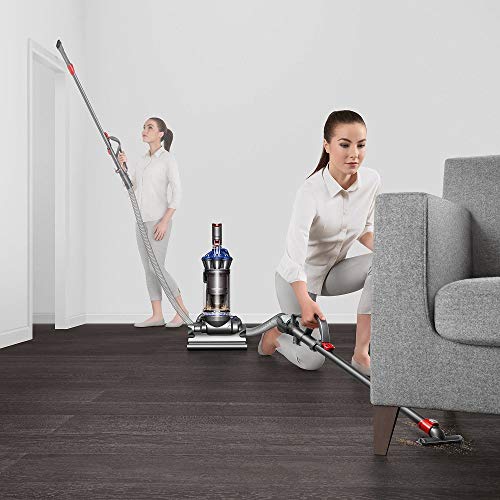 Organize and hygienically empty the bin: The dust bin on Dyson vacuums is transparent, so you can see when it's time to empty and how much dust, dirt and pet hair have gotten into your new Dyson vacuum. Made of sturdy polycarbonate and can be emptied at the push of a button, minimizing the risk of contact with dust.
Click-Fit Wand: Attach and remove accessories with a single click.
On-Board Accessory Tool: Includes combination accessory tool and stair tool. We keep them in the machine so that they are always at hand.
Certified Asthma and Allergy Friendly: The Dyson DC33 Multi Floor is Certified Asthma and Allergy Friendly by the Asthma and Allergy Foundation of America.
Tough and durable construction: Constructed from tough polycarbonate to withstand bumps and blows.
No extra cost: Other vacuum cleaners are designed to still require changing bags, belts and filters. Dyson vacuum cleaners do not require a bag and the filter is washable, so there is no extra cost.
The Design Explanation of Dyson DC33 Vacuum Multi-floor Bagless
The Dyson DC33 multi-floor upright bagless vacuum is a heavy-duty machine that removes debris or dust in its path.
The modern design of this vacuum cleaner boasts Root Cyclone technology that ensures no suction loss.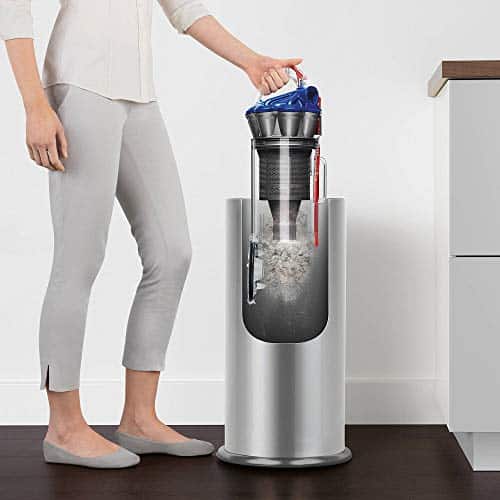 This is an upright vacuum. This means you just turn it on and direct the full vacuum over the carpet.
You walk back and slide the vacuum over the area of ​​the floor you want to clean.
The DC33 model is an updated version of the DC14. Basically, this Dyson vacuum cleaner is the simplest full-size upright they produce.
No "animal" cleaning attachments or "ball" skills. What it does have is incredible suction power at a lower price than other Dyson upright models.
Like most upright vacuums, the Dyson DC33 includes hoses on the back that connect to various onboard tools. This means you can vacuum under furniture or anything that is not on the floor.
The additional length of the dc33-wand Telescopic Reach extends the hose up to 15 feet. Even in vaulted ceilings, the hose reaches the top thanks to the extended reach.
Tools that attach to the hose include the stair brush and the crevice tool/furniture brush combination.
Dyson specializes in bagless vacuum cleaners with root cyclone technology. The DC33 All Floors has a bagless canister that sits right in front of the upright vacuum.
You can see through the plastic container, so when the 0.61 gallon container is full, simply remove it.
Make sure you're holding the container directly over the trash can, as pressing the red release button will cause all dirt to fall down and out of the container.
Two round HEPA filters are included with this vacuum cleaner, but do not need to be replaced. Clean the HEPA filter every 3 months according to manufacturer recommendations.
This vacuum cleaner filters the air so effectively that a laser particle scanner that measures dust down to 0.3 microns recorded zero particles coming out of the vacuum's exhaust.
Performance Testing of Dyson Dc33 Vacuum
The Dyson DC33 Multifloor upright vacuum did a great job cleaning every type of mess we tried. It has tremendous suction power and filters out all the dust, so there is no dirty exhaust.
Dyson Dc33 Vacuum also has a suction power that sucks up over 100 inches of water, much higher than typical vacuum cleaners. The high level of suction is very important, especially in homes with medium or long pile carpets.
However, there is not much free space in the vacuum cleaner, so some large particles on hard floors do not fit under the vacuum head and are pushed out. The somewhat "boxy" design of the vacuum cleaner head means it won't fit over the edge of kitchen cabinets or under the edge of furniture.
Dyson Dc33 Vacuum Test On Floor:
We tested the Dyson DC33 with large and small grains. You did a great job cleaning up the oatmeal you used to simulate the large particles. Remember to turn off the brush bar before cleaning hard floors.
This dial is located on the bottom of the device. A circular dial that turns off the brush bar by simply turning it.
For small particles it worked very nicely. In the kitchen, kitchen cabinets do not fit under raised edges. It didn't do a great job as it did on carpet, but overall it cleans hard floors very well. You will need to take out the onboard tool to clean this area.
Dyson Dc33 Vacuum Test On Carpet:
This is where the Dyson DC33 Vacuum specializes. It does an incredible job of cleaning carpets. One pass makes cleaning easy no matter what type of mess you have. We tested how to simulate fine dust by throwing dry oatmeal on the ground and using larger particles and wheat flour.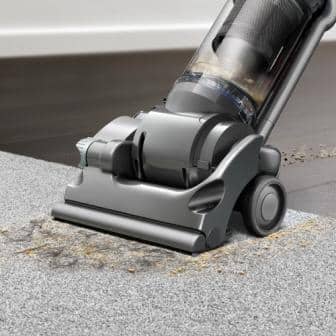 It sucked up all these fragments at once. It could also fit in corners, so I didn't have to use the on-board tools to lay the carpet.
When I tried the smaller grain test, I dumped the white flour on the floor. Dyson cleaned everything up in one pass. It leaves a nice clean carpet trail in the aftermath.
If you're the kind of person who needs to see the vacuum carpet path to make your room feel clean, use the Dyson to give your carpet a great look. We sat down on our hands and knees to examine the carpet and it looked really nice.
Dyson Dc33 Vacuum Test On Rugs:
Sometimes your strongest asset can also be a weakness. This is the case with the Dyson DC33 Multi Floor super suction that never decreases. Rugs obviously rest on hard flooring. As the Dyson passes over a rug, the edges can get pulled up off the ground at times.
For larger area rugs, this isn't a huge problem, but for smaller entryway rugs, you should keep one of your feet on the rug to keep it from moving or getting lifted off the ground as it is cleaned up.
Edge Cleaning Dyson Dc33 Vacuum
I really like that this vacuum can clean hard floors and carpets right to the edge. There was no need to use the crevice tool at all for open spaces against walls or doors.
Going from the side to the edge works much better than hitting the front of the vacuum right up against the edge of the room. Since the design of this vacuum cleaner is very square, it should be in an area with some space.
It doesn't fit easily into objects or corners. Some edge cleaning situations require the use of a hose and long reach bar.
Dyson DC33 Vacuum Filter:
Dyson has an exhaust system that filters everything and is completely clean. This means that the dust you inhale will never come out again. In fact, the Dyson DC33's exhaust is cleaner than the air you normally breathe.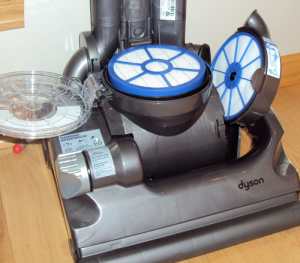 There's a great tool to measure how well your vacuum cleaner is picking up dirt. A laser particle scanner can be used to measure the amount of dust expelled from a vacuum cleaner's exhaust system.
This laser scanner measures particles in the air that are 0.3 microns or larger in size. Holding this tool up to the exhaust of the DC33 will log zero airborne particles.
How to clean a Dyson dc33 vacuum
The Dyson DC33 bagless vacuum cleaner is very simple to use. There is one big power button to turn it on. There is a dial on the bottom of the vacuum to select carpet or hard floors.
The brush bar rotates in carpet mode and turns off on hard floors.
Dyson Dc33 Vacuum has a very long cord at 35 feet. With this long cord, you can vacuum more than one room or clean an entire large room without changing outlets. There is also a quick-release knob that can be pulled down to instantly disconnect the entire cord.
How to use Dyson DC33 Vacuum?
It requires minimal assembly and requires no tools. Just snap the hose and long-reach rod into place. Don't forget to clip the two onboard tools to the back of the device. Then you can use it right away.
Movability of Dyson Dc33 Vacuum
This Dyson DC33 Multi Floor model is quite roomy and bulky. It works well in open spaces, but won't fit in small places because it's 14 inches wide.
It also doesn't have a low clearance, so it won't easily get under furniture. The two large rear wheels make it easy to move the vacuum cleaner when cleaning, or simply push the vacuum cleaner to the spot you want to clean.
This vacuum cleaner is large, so you'll probably want to dedicate a space in your closet when not in use. It won't sneak into tight spaces when stored.
The noise of Dyson DC33 Vacuum
The Dyson DC33 vacuum isn't very loud, but it's difficult to carry on a conversation without raising your voice. The Dyson DC33 is slightly below the noise level of an average vertical vacuum cleaner. Decibel readers recorded noise levels between 75 and 80 decibels.
To give you an idea of ​​how loud this noise is, just how loud the average dog barks or when standing on a curb on a busy road.
Dyson DC33 Vacuum Parts and Attachment
There are three nice things about using the onboard tools with the DC33. First of all, the tools are all stored right in the vacuum. You don't have to go back and forth to your closet to get what you need.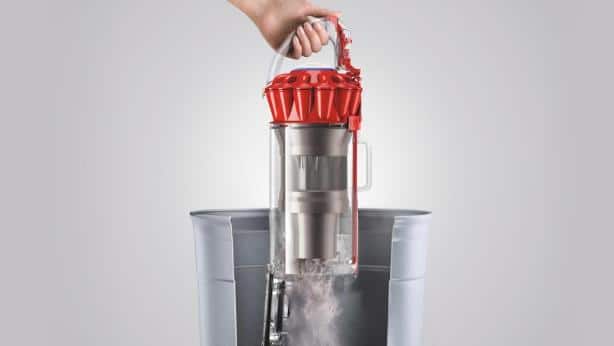 Next, it comes in very handy because of two tools, actually three combination tools. There's a crevice tool for tight spaces, which turns into an upholstery brush when the bristles are pulled up.
Upholstery brushes are great for dusting furniture or cleaning curtains. The final tool is the stair brush. It can also be used for purposes other than stairs. We actually preferred this tool for cleaning floor edges.
Finally, with Telescopic Reach and a flexible hose, you can reach up to 15 feet. Perfect for homes with high ceilings. You can reach in and get Traitor Web.
Also, the flexible hose is great for getting into tight spaces. Don't forget the tea. The hose's flexibility can help it clean the interior of your car very well.
Some people have difficulty using a cane. There are two buttons that activate the wand. First press the silver button where the wand attaches to the base of the device. This will detach the handle.
Then press the red button on the back of the wand to extend the wand's reach. When attaching this wand back to the main body, the gray button must be pushed to the right against the DC33 until it clicks.
Dyson DC33 Vacuum use of Stairs
Like most uprights, the Dyson DC33 is quite heavy and not easy to transport down stairs. Also, do not use an upright vacuum cleaner to clean the stairs. We recommend using a wand and hose along with the onboard tool to clean carpeted stairs.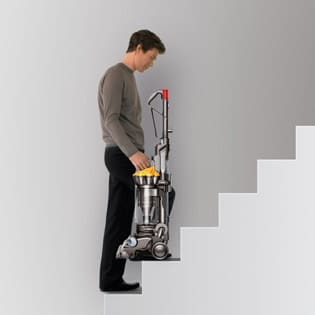 The crevice tool works well with a stair brush to clean small crumbs and pet hair. With the longer hose and wand, I was able to clean up to 7 steps. After that, I had to lift the vacuum cleaner and move it up the stairs to clean the rest of the stairs.
If you are more comfortable cleaning this way, there is also an option to use just the hose without the wand.
Maintenance require for Dyson Dc33 Vacuum
The advantage of a bagless vacuum cleaner is minimal maintenance. Dyson has nothing to do with keeping Dyson working effectively. When the 0.61 gallon trash can is full, it must be emptied. Also clean the two filters every 3 months.
Filter A and Filter B both face the bottom of the vacuum unit. The dust bin must be removed for easy access to both filters. Wash both filters in cold water.
Beat the filter as much as possible and then let it air dry for at least 24 hours before putting it back in the vacuum cleaner.
The HEPA filter is built to last the life of your DC33 vacuum cleaner. No need to replace it. And since it's a bagless vacuum, you don't have to buy a bag or filter. There's no need to spend money on filters or bags with the Dyson DC33 Multi Floors Upright Vacuum.
This particular model, the Dyson DC33 MultiFloor, is a neat Dyson vacuum. Specially designed to clean large areas of carpets and hard floors. There is no ball technology like DC24 or DC25
It's not even the "animal" version, but it still handles pet hair very nicely. We recommend this model for anyone with a larger home with an open floor plan.
It's not great for getting into tight spaces, but it works very well when you have a lot of carpet that needs cleaning.
How to change the belt on a Dyson dc33 vacuum?
Below is the tutorial which will help you in Changing the belt on Dyson Dc33 Vacuum, However, we recommend consulting experts from Dyson authorized dealerships.
Final Words about Dyson Dc33 Vacuum:
This particular model, the Dyson DC33 Vacuum MultiFloor, is a neat Dyson vacuum. Specially designed to clean large areas of carpets and hard floors. There is no ball technology like DC24 or DC25.
It's not even the "animal" version, but it still handles pet hair very nicely. We recommend this model for anyone with a larger home with an open floor plan.
It's not great for getting into tight spaces, but it works very well when you have a lot of carpets that needs cleaning.